SmartMed Apps is Proud to present RADX-MOBILE for the iPhone!!!

              Built by a Rad Tech for Rad techs.

      An intuitive application for finding the exam information you need when you need it in an electronic  format without the hassles of traditional paper based reference guides. If you have ever used a paper based postitioning guide or known anyone who has, you can attest that they are just impractical for many reasons. First the cost for them is sky high! The weight and bulkiness of them make it uncomfortable for anyone, especially when you are in your scrubs. Not to mention it can be so time consuming flipping thru page after page in order to find your desired exam. Face it, even some of the most experienced techs need to sneek a peek now and again. Wether it is a certain position you may not get that often or a technique you haven't used in a while, we all need to refer to our positioning guides from time to time.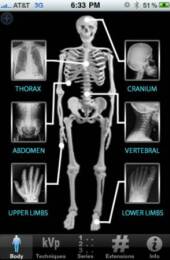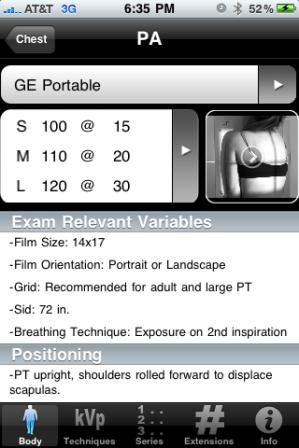 From experience I can recall many instances where I was on the go and needed my pocket guide. Sometimes you may forget it in your car or home. Maybe you just stopped carrying it, again because of how impractical it is. But who forgets their iPhone at home??? From this point on you will have your positioning guide where ever you are. Absolutely great for portables. This app comes with the following  features:

Complete positioning guide for over 100 exams!

Includes customizable technique chart for EVERY exam!

Technique charts customizable to patient size and even your location.

Easy to read positioning instructions and variables!

Pictures of positioning and and the x-ray itself!

Customizable technique Quick Fetch chart for when you only need technique.

Customizable series section! Who can really remember every position in a complete bone survey?

Customizable hospital extension directory! Look up and DIAL any extension for any hospital department right from your iPhone!

New positions added according to your needs! We will add additional exams according to our customers needs. If we get an overwhelming request for a particular exam we will work to add it as soon as possible.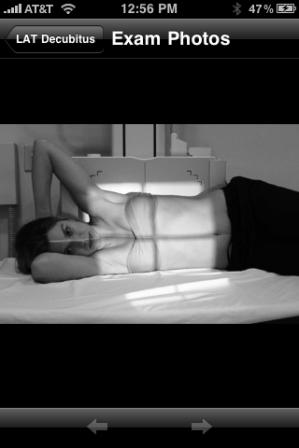 Congratulations to our free download contest winners! Thank you for participating!

-Jake DeJarmett- Phoenix, AZ                                           -Kristy Garsteck- Mount Pleasant, PA

-Eric Winstead- KY                                                              -Allen Harris

-Matthew Anderson- Newport Beach, CA                         -Amanda Lewis

-Mindy Arenas- Fullerton, CA                                            -Christopher Salazar, NJ

-David Martin- Huntley, IL                                                  -Melisa Williams, Los Angeles, CA